Welcome!
PUBLIC NOTICES:


LEGAL NOTICE – TOWN OF ARIETTA
Notice is hereby given that the Town Board, Town of Arietta will have a meeting for the purpose of a Budget workshop and any other Town business on November 3, 2021 at 5:00 pm.
The Town Board has rescheduled the Public Hearing for adopting the 2022 Budget from November 1, 2021 to November 8, 2021.
The Town Board will hold a Public Hearing to review the 2021 budget on November 8, 2021 at 5:00 pm at the Piseco Common School 1722 State Route 8 Piseco, NY for the purpose of public comment and adopting the 2022 Town Budget. All persons interested in the matter shall be heard at such time and place.
Kenneth Parslow, Town Clerk, Town of Arietta
The Town of Arietta hereby announces its fiscal years 2021 through 2023 goal of 5.37% for Disadvantaged Business Enterprise (DBE) airport construction Contracts. The proposed goals and rationale is available for inspection between 8:00 a.m. and 4:00 p.m., Monday through Friday at the Town of Arietta, P. O. Box 37, Piseco, NY 12139 for 30 days from the date of this publication.
Comments on the DBE goal will be accepted for thirty (30) days from the date of this publication and can be sent to Rick Wilt, Town of Arietta, P. O. Box 37, Piseco, NY 12139.
NOTICES:
The Brush Dump has been reloacted to 365 Old Piseco Road.
LAKE PLEASANT TRANSFER STATION SCHEDULE:
Beginning the week of November 30, 2020 the following LPTS Winter Schedule will be in effect
MONDAY 8:00 AM – 4:00 PM
TUESDAY 8:00 AM – 4:00 PM
WEDNESDAY 8:00 AM – 4:00 PM
THURSDAY 8:00 AM – 4:00 PM
FRIDAY CLOSED
SATURDAY 8:00 AM – 4:00 PM
SUNDAY CLOSED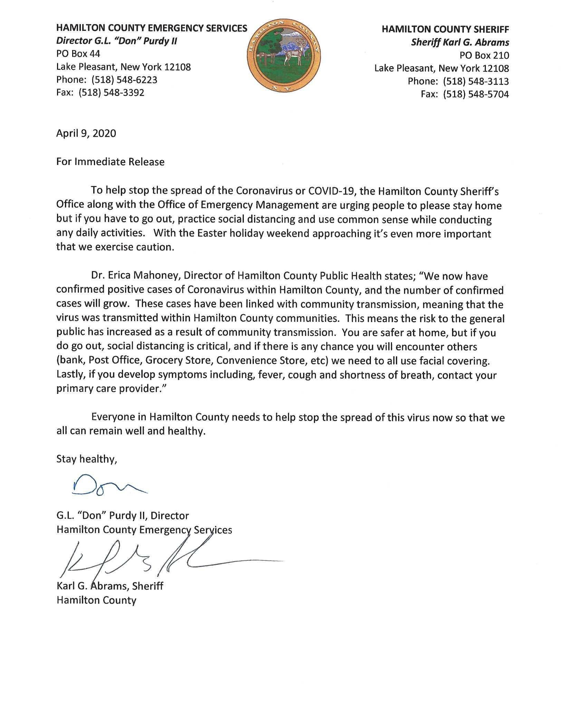 COVID - 19 Coronavirus information: HERE
NOTICE: Recreation for COVID -19
Parks and other open public spaces, except playgrounds and other areas of congregation where social distancing cannot be abided

However, golf courses are not essential

However, use of boat launches and marinas for recreational vessels is not considered essential
Please click here for NEW YORK STATE ON PAUSE - STAY WHERE YOU ARE letter from Hamilton County Public Health regarding renting and second homeowners.
For fishing information and on-line licensing click HERE